Afghans are a staple of any yarn artists bag of tricks; they are a great way to add a pop of color to your living room or make a thoughtful gift for loved ones. Using the same pattern every time can get boring, but trying to find a new one can be overwhelming.  There are just so many stitches and options! So I've taken some of the work out of it for you.  Below are 10 afghans that go beyond the standard granny square.  Pretty pops of colors and interesting shapes make these fun to make and fun to give away (if you can bear to part with them!).
1. Valentine Hearts Afghan
The gorgeous mix of pinks and purples will put a smile on any little (or not so little) girl's face. You can even switch up the colors to shades of blues or greens and give it to the man in your life.  View the full pattern here.
2. Star Shell Afghan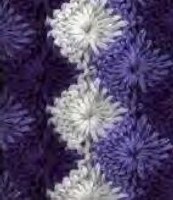 The star shell stitch adds not only depth, but texture to the blanket.  The color change is simple yet elegant. I want to try this in shapes of blue, to have a wave like effect. View the full pattern here.
3. No Beginning Chain Lacy Shell Afghan
The shell stitch adds a touch of lacy elegance, but the use of worsted weight yarn helps keep your sanity.  View the full pattern here.
4. Nonny's Playblocks Afghan
Playblocks are a great way to add geometric shapes to an afghan. View the full pattern here.
5. Newfield Circle Afghan
Who doesn't love a circular afghan?  The simple stitch is reminiscent of a granny square, but the circular shaping makes it fun.  View the full pattern here.
6. Textured Log Cabin Afghan
This pattern calls for a great product from Lion Brand Yarn called Textures.  This self striping yarn creates a beautiful color change that makes your afghan look harder to make than it really is.  View the full pattern here.
7. Corner Granny Afghan
A twist on the traditional granny square, the corner to corner color change allows you to add blocks of color to your work, while keeping the overall look simple and clean.  View the full pattern here.
8. Converging Colors Afghan
This blanket is worked in four pieces then joined. This allows you to creak a funky pattern with your color changes. View the full pattern here.
9. Level 2 – Easy Crochet Afghan
What jumped out as the most for me with this, was the funky zig zag pattern the blanket produces.  View the full pattern here.
10. Circle of Love Afghan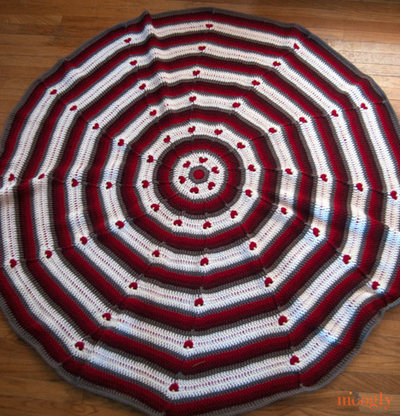 Last, but certainly not least, is this beauty.  Circular shaping, the addition of cute little hearts, and the simple changes in color makes this afghan a winner.  View the full pattern here.
Each pattern will give you a list of recommended yarn, but if you're looking to change it up and choose your own I recommend Lion Brand Yarn's Heartland, especially in Joshua Tree.  The fiber is soft to the touch, easy care, and if you use the nature inspired green, your project can be unisex.  Happy Hooking!